Development of the Aksoran deposit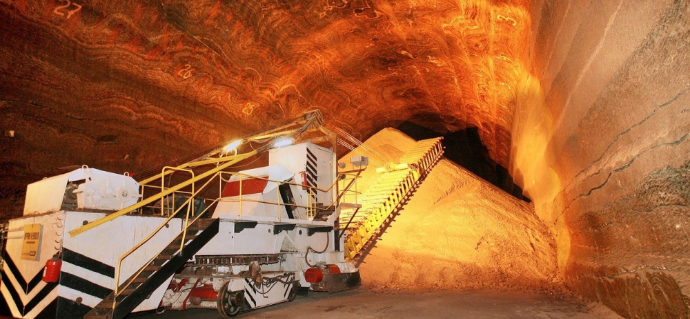 Indicator

Results

Investment amount, thousand US dollars

117 868

NPV of the Project thousand, US dollars

112 177

IRR, %

29,4%

IBITDA yield, %

Payback period, years

5,6

Discounted payback period, years - -
Products
Average annual capacity:
5,019 tons of tungsten in scheelite concentrate;
227 tons of molybdenum in industrial products.
Project
Within the framework of the Project, it is planned to build a mining and processing plant (GOK) on the basis of the largest in Kazakhstan deposit of molybdenum-tungsten ores "Aksoran" for the production of tungsten in scheelite concentrate and molybdenum in industrial products. During the development of the deposit, it is planned to use a system of a sub-storey collapse with a face release of ore, which will then be sent for flotation enrichment.
Company
The initiator is "Esil-Mining" LLP, whose main activity is conducting geological exploration and surveys. The initiator has license No. 2-ML dated March 31, 2020 for the extraction of minerals at the Aksoran deposit (until 2045).
Market
According to the forecast of Chromatus Consulting, it is expected that the global tungsten market will demonstrate a trend of stable growth from 3.27 billion US dollars in 2020 to 5.28 billion US dollars in 2028 with an average annual growth rate of 6.35% for this period.
World production of tungsten has an upward trend, despite the pandemic caused by the COVID-19 crisis in 2020 when production volume increased slightly by 0.2% (84 000 tonnes) compared with the year 2019 (83 800 tons).
According to the forecast Mordor Intelligence molybdenum consumption will increase c 247 thousand tons in 2020 to 303 thousand tons in 2025, demonstrating a CAGR of 4% from 2020 to 2025.
What is the attractiveness of the project?
Estimation of reserves of the deposit. The reserves of the deposit were estimated according to the Kazakh KAZRC standard from the Committee of Geology, as well as according to the international JORC standard. The reserves were placed on the state balance sheet in 2019. Aksoran is among the richest tungsten deposits in Central Asia.
Contacts with potential consumers. The initiator received letters of interest to purchase its products from enterprises of China, Russia, Germany, Austria and Singapore.
Geographical location. The project has an advantageous location in terms of geographical proximity to China, the main consumer of tungsten.
Investment offer
The Project requires financing in the amount of 117,868 thousand US dollars:
50% (58,934 thousand US dollars) – debt financing (if collateral is available);
20% ($23,574 thousand) – equity * from 30% ($35,360 thousand) – investor participation.
The proposed financing structure and measures of state support are indicative, the final structure of financing and participation in the Project will be determined based on the results of joint negotiations with the investor.