Keynote of HMA Ms Kathy Leach at the opening of the Forum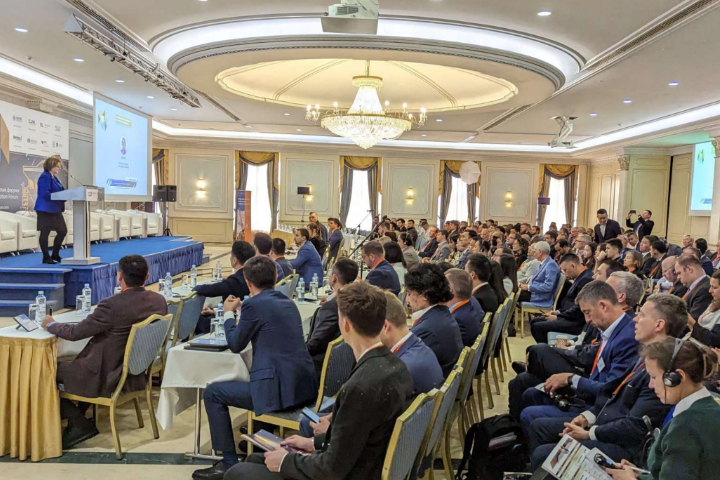 Құрметті қонақтар, ханымдар мен мырзалар, MINEX конференциясының ашылу сессиясына қош келдіңіз.
Ladies and gentlemen, good morning and welcome to the opening session of the annual MINEX conference.
It gives me great pleasure to address you today.  Historically, the UK and Kazakhstan are both mining nations, and our modern prosperity is in part built on our abundant supplies of coal. Kazakhstan's mining industry remains one of its key sectors, contributing up to 20% of the GDP. But we are all now entering a new age of mining – a green energy and technological transition where coal must phase out and the supply of what we now call 'critical minerals' must rise by a factor of at least 4 by 2040 to deliver existing climate change commitments using wind, solar, hydrogen and other technologies. Global demand for electric vehicle battery minerals (lithium, graphite, cobalt, nickel) is projected to increase by between 6 and 13 times by 2040 under current policies – this exceeds the rate at which new primary and secondary sources are currently being developed. If we want a faster transition, we will need even more.
Driven by the clean energy transition, since 2010, the UK has witnessed a 'renaissance' in our domestic mineral exploration, with a doubling in the value of the sector. We have pockets of mineral wealth from the Scottish highlands down to the southern tip of Cornwall, where new British companies like 'Cornish Lithium' are pioneering new technologies for best-in-class responsible mining.
At the same time all around the globe, UK companies, both majors like Rio Tinto and juniors, using cutting-edge exploration techniques, are world leaders in discovering and developing new assets. In non-British companies, British expertise is sought after – in most mines today, it is said you can usually find someone who has trained at the world-renowned Camborne School of Mines. –  Taking advantage of this new age in mining – and improving the resilience of the global supply of 'critical minerals' – is now a key UK government priority. The UK's first Critical Minerals Strategy was published last summer. The Strategy aims to maximise our critical minerals value chain – through mining, refining, manufacturing, and recycling – in a way that creates jobs and growth and protects communities and our natural environment. We want to re-establish the UK as a skills leader in mining technology and continue to build our cutting-edge research and innovation in exploration, mining, refining, and manufacturing.
And we want to do that while strengthening our relationships with key countries around the world with critical mining sectors – in order to make global supply chains more diverse, transparent, responsible, and resilient. My aim – with colleagues from the Department for Business and Trade team here in Astana –  is to make sure that Kazakhstan is seen by the UK as a crucial partner in delivering this strategy.
Kazakhstan has both high potential mineral wealth and, we believe, the political will to do what it takes to develop its next generation of world-class mines in critical minerals and rare earth deposits. That's why one of the key goals of the visit of our Foreign Secretary to Astana in March was the signature of a Critical Minerals MoU, to provide the framework for deepening collaboration. We are looking forward to hearing from the officials and companies in Astana today to hear what we – as governments – can do to help clear unnecessary barriers, find areas for mutual collaboration, and provide the impetus for new investment.
Over the past few years, there have been significant efforts in the mining industry to enhance its accessibility, openness and consistency for foreign investors. These include improving access to good quality geological data – companies tell us the digitisation and accessibility of data remain the single most important thing Kazakhstan can do. This is why the establishment of Kazakh Geological Survey last summer marks an important step in increasing geological exploration, expanding the mineral resource base and providing comprehensive service support to investors.
As part of our expanding collaboration, we are proud to say that the British Geological Survey, the UK's premier provider of geological information with nearly 200 years of expertise, is ready to support Kazakhstan's geological development by working to strengthen cooperation in the areas of geological research and data management. We believe that by building this partnership, these organisations can accelerate the development of Kazakhstan's mineral wealth while unlocking the enormous potential for investment and driving economic growth.
At the same time, we know the other single most important issue for foreign investors is a stable and predictable tax and regulatory regime. A new Tax Code will be under development over the course of this year, and we welcome the Prime Minister's undertaking that it will be developed in close collaboration with industry – we know UK and other international companies are ready and willing to take part in discussions.   President Tokayev also recently highlighted the importance of taking into account the opinions of businesses while making strategic decisions[1]. I welcome the active engagement of the Kazakh government with the industry and potential investors over the last year. As a result, we have also refocused a key element of our annual Ministerial UK – Kazakh Intergovernmental Commission on Trade and Investment to focus on the mining sector.  Our joint efforts, listening to industry and looking at best-in-class examples of regulatory regimes around the world will help lay the groundwork for a 21st-century mining sector in Kazakhstan, with high-quality jobs, skills, technology, and investment in communities to fuel economic growth.  UK companies are already showing their confidence in the sector, with Weir Minerals investing over £1m to build a servicing super center in Almaty last year.  A UK company is about to open the world's largest vanadium mine. A number of junior mining companies like East Star Resources, Scythian Mining, and Pallas Resources also joined in pursuit to enhance the production of mineral resources. Last financial year, UK business deals that we know of with Kazakh counterparts summed to around £80 million pounds. We think this is just the start.
We are excited to see what the future holds for our two countries as we continue to work together toward a sustainable and prosperous future.
Thank you. I wish you all a productive and successful time at MINEX Kazakhstan.