Kazakhstan hosts mining Forum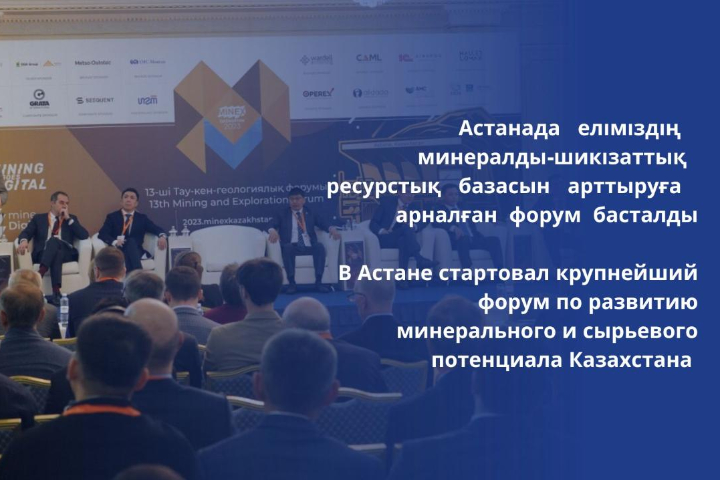 The XIII MINEX Kazakhstan, Central Asia's largest mining and exploration forum, is currently underway in the capital city, focusing on the development of the mining industry and critical raw materials in the region. The event is organized under the theme "Subsoil Use for the Benefit of National Development" and has attracted over 500 industry subsoil users, investors, and experts from 30 countries.
Key Government Government officials presenting at the Forum include Iran Sharkhan, Vice Minister of Industry and Infrastructure Development of the Republic of Kazakhstan, Deputy Minister of Foreign Affairs Almas Aidarov, and Chairman of the Geology Committee of the Ministry of Industry and Industry of the Republic of Kazakhstan Yerlan Akbarov.
The forum provides an opportunity for attendees to discuss challenges and growth drivers in the mining and geological industries in Kazakhstan and other Central Asian countries. They will also explore new technologies and advancements in subsoil use.
Iran Sharkhan highlighted the importance of Kazakhstan's mineral resources and the success of the 2017 legal reform in attracting private investment in mineral exploration. The reform has led to the establishment of over 700 domestic junior companies in the industry and attracted major global players.
On May 26, the Ministry of Industry and Industry of the Republic of Kazakhstan plans to hold a pilot electronic auction granting the right to subsoil use for the extraction of solid minerals for 25 deposits, with the goal of attracting further investment.
Yerlan Akbarov, Chairman of the Geology Committee, presented information on the Concept for the Development of the Geological Industry of Kazakhstan until 2027, emphasizing the need for systematic measures to intensify geological exploration and outlining the main objectives of the document.
The XIII MINEX Kazakhstan Forum aims to promote the exchange of experience and knowledge between industry experts, government regulators, subsoil users, and investors.
The mining and metallurgical industry of Kazakhstan plays a significant role in the nation's economy, employing over 273,000 individuals.