Positive 2022 results in the Mining and Metallurgy sector in Kazakhstan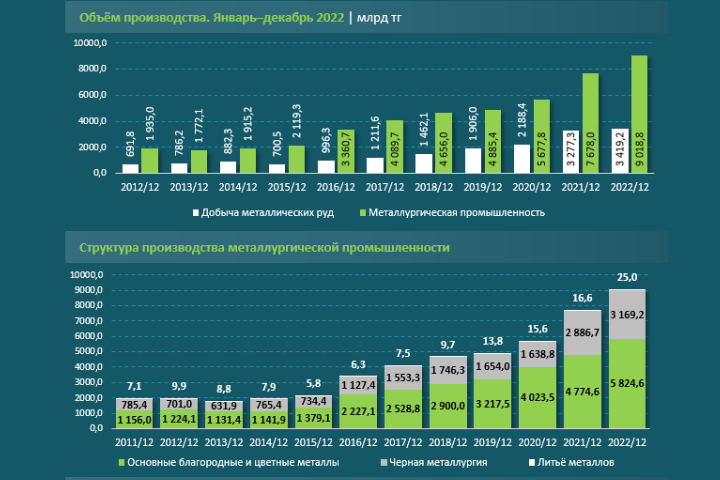 The mining and metallurgical complex (MMC) in Kazakhstan contributed 26% to the country's total industrial production at the end of 2022. This figure was released by the Bureau of National Statistics. The mining industry alone accounted for 14% of the share of extracted metal ores, with production rising to 3.42 trillion tenge in monetary terms, a slight increase of 0.14 trillion tenge. Of the amount produced, iron ores accounted for about 684 billion tenge, while non-ferrous metal ores made up the rest.
The value of metallurgical products manufactured at the end of the year was over 9 trillion tenge, 1.32 trillion tenge more than the previous year. The production of ferroalloys in Kazakhstan's ferrous metallurgy sector increased by 2.6% to 2.1 million tons, while the output of steel and pig iron decreased by 8.5% and 10.3%, respectively. Non-ferrous metal plants managed to maintain production levels similar to 2021, producing approximately 109 thousand tons of lead, 266 thousand tons of zinc, 453 thousand tons of copper, and 1.6 million tons of aluminium.
The mining and metallurgical complex in Kazakhstan remains a significant contributor to the country's industrial production, accounting for a quarter of its output at the end of 2022. While the production of some metals decreased in 2022, the overall value of metallurgical products manufactured increased substantially, signalling the importance of the industry to the country's economy.