China's focus on Central Asia expected to grow despite China-West tensions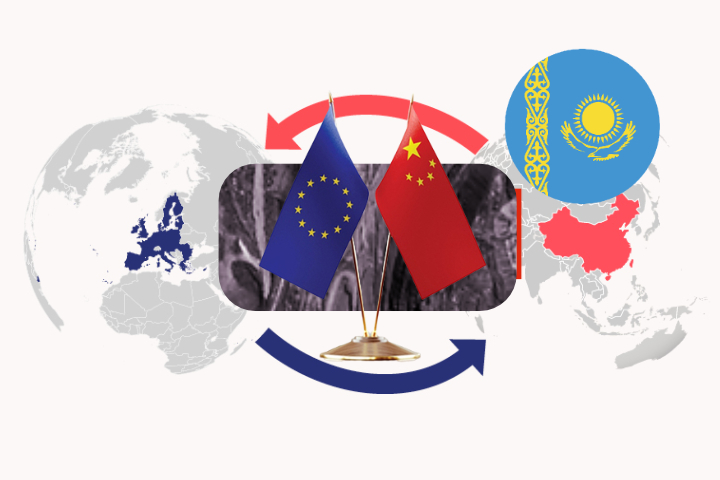 Challenging years for BRI
China's Belt and Road Initiative (BRI) has hit several roadblocks as geopolitical tensions and financial constraints plague emerging markets. This is a significant shift from China's initial plan to connect East Asia and Europe. Large public debt loads, rising debt servicing costs and slow growth will reduce the willingness of policymakers in emerging markets to take on new infrastructure project-related debt over the medium term, especially for large, high-risk projects.
EV production aspirations
China has been a major player in the production and deployment of EVs, and with the Belt and Road Initiative (BRI), Chinese companies are now leveraging their expertise and partnerships to expand investments along the EV supply chain. By building partnerships and investing in EV production facilities, Chinese companies can tap into the growing global demand for sustainable transportation solutions and position themselves as leaders in the sector.
China's Geopolitics in Europe 
Growing China-West tensions have contributed to increased scrutiny of Chinese participation in the European infrastructure sector. The Russia-Ukraine war has dimmed the prospects for the development of the Eurasian land bridge between China and the EU and has created uncertainties in Central Asia.
Despite these challenges, there is still a strong need for improved transport links between Asia and Europe. The implementation of the BRI may face headwinds due to geopolitical tensions and debt pressures, but there is still an optimistic outlook for improved transport links supported by the shifting global supply chains.
The fact that Central Asia is increasing in importance to China comes at a time when several European nations, including Germany, Hungary, and Italy, still enjoy economic ties with China. However, tensions between Europe and China remain manifold, with several EU governments imposing restrictions on the participation of Chinese IT majors in 5G networks. Meanwhile, Western Balkan countries have benefited from BRI investments that were easier to access than EU funding which comes with a lot of conditionality that is harder to fulfil.
Increasing presence in Central Asia
While Chinese contractors hope to reduce risks by pursuing more projects in Europe, regulatory oversight of Chinese investments in some countries there is expected to thwart those plans. As a result, China is increasing its focus on Central Asia, where the region's importance as a trading route has grown following Russia's invasion of Ukraine and Western sanctions on Moscow. During a recent webinar, Fitch Solutions analysts emphasised Central Asia's importance to the BRI since it was the place where President Xi Jinping first announced the massive infrastructure project. They also noted that China has been increasing investment in Central Asia while reducing its investment in other parts of the world, such as Europe and sub-Saharan Africa.
With the fall in investment in Europe, Fitch Solutions head of Europe country risk Anwita Basu pointed out increased investment in Central Asia. The region played a crucial role in the BRI since its inception, and its importance has grown over the years. Basu also highlighted the series of recent meetings between high-level Chinese and Central Asian officials as a clear indication of the region's significance.
Furthermore, the Russia-Ukraine war has impacted the dynamic in the region. Central Asia has long been considered Russia's backyard, and the region has benefited significantly from trade with Russia. However, Basu believes that "Russia's role in Central Asia has lessened as its attentions are increasingly occupied by Ukraine, and meanwhile, Central Asian nations are looking to other countries like Turkey, India, and even China to replace it."
The importance of Central Asia to China cannot be overstated, and it has been part of the country's goal to connect itself to Western economies while also developing the Xinjiang region in Western China. During a trip to Kazakhstan in 2013, President Xi first announced the BRI, and Central Asia has remained a crucial part of the project. Basu emphasised that Central Asia is a very important part of China's plan and that the region's growth is expected to continue.
The smaller economies of Kyrgyzstan and Tajikistan in Central Asia are facing debt issues, particularly on projects related to China's Belt and Road Initiative (BRI). The two countries hold a significant amount of debt to China, which is around 20% of their respective GDPs. As a result, Chinese investors are expected to be more cautious and prioritize security and debt concerns when investing in Central Asia. This may lead to a slight slowdown in investment in the region in the next few years.
With Central Asia playing such an important role in the BRI, it is likely that China's focus on the region will continue to grow, with the country hoping to connect to Western economies and develop its own western regions. Despite the challenges, China remains a global economic powerhouse, and it is likely that the BRI will continue to evolve in line with changing economic and geopolitical realities.