Kazakhstan: Invitation to PDAC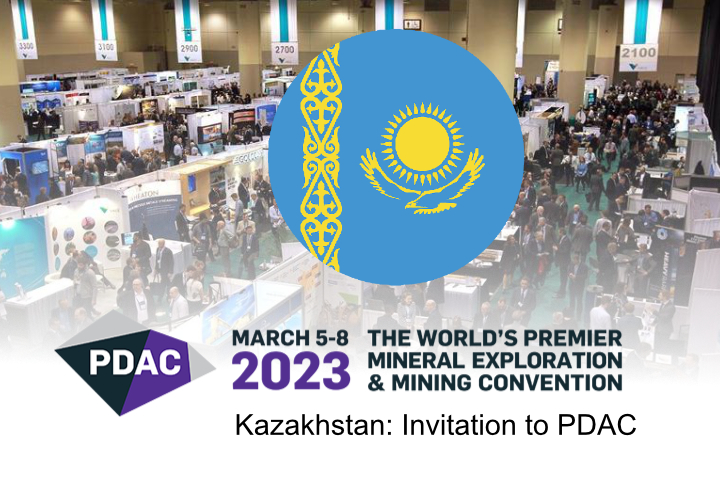 Visit Kazakhstan's National Pavilion at Booth #7009 in the North Building at The Prospectors & Developers Association of Canada Convention (PDAC) at the Metro Toronto Convention Centre (MTCC) on Sunday March 5th to Wednesday March 8th, 2023.
The opening ceremony will be on March 5th at 2.30 p.m.
About the Mineral resource base of Kazakhstan
Kazakhstan has the 6th largest reserves of natural resources in the world and the 10th largest total mineral production globally (excluding oil and gas). The country has 12% of the world's uranium resources. The Government of Kazakhstan invites foreign companies to explore more than 60 deposits of precious and non-ferrous metals for mutually beneficial projects.
About PDAC
PDAC 2023: The World's Premier Mineral Exploration & Mining Convention is the leading event for people, companies and organizations connected to mineral exploration.
This annual convention in Toronto, Canada is known for attracting up to 30,000 attendees from over 130+ countries for its educational programming, networking events, outstanding business opportunities and fun. Since it began in 1932, the PDAC Convention has grown in size, stature and influence. Today, it is the event of choice for the world's mineral industry hosting more than 1,100 exhibitors and 2,500 investors.
Kazakhstan's participation in PDAC
At the Conference, Kazakhstan will be presented by the officials in charge of the natural resource extraction sector, as well as a large number of national companies and private businesses. There is a possibility of holding a bilateral meeting with members of the Government of Kazakhstan.
On March 5th, the Embassy of the Republic of Kazakhstan to Canada, supported by National company «Kazakh Invest» and «Hatch» company will organize a Business Forum Kazakhstan-Canada «New Horizons of Cooperation in Mining» on the margins of the conference PDAC-2023 in Toronto. To participate in the event, the approval of the organizers is required (by invitation only).
Further information:
Mr. Nurlan Gabdyzhamalov
Economic Counsellor of the Embassy
of the Republic of Kazakhstan to Canada
tel. +1 343-777-2133
email. kazdipmission@gmail.com
PROGRAM
Kazakhstan-Canadian business forum
"New Horizons of Cooperation in Mining"
Date and time: March 5,2023
Location: Intercontinental Toronto centre hotel
Toronto, Canada
Languages: English, Russian
Format: 3 courses dinner
---
16.00-17.00   Registration
Welcome coffee
17.00  START OF THE BUSINESS FORUM 
17.00-17.45   PLENARY SESSION
Moderator: Yuri Savguira, Advisory Engagement Manager, Hatch
17.00-17.05   Welcome remarks by the Ministry of Natural Resources of Canada
17.05-17.10   Welcome remarks by Almas Aidarov, Deputy Minister of Foreign Affairs of the Republic of Kazakhstan
17.10-17.15   Welcome remarks by Iran Sharkhan, Vice-Minister of Industry and Infrastructural Development of the Republic of Kazakhstan
17.15-17.45   Presentations: Mining Sector in Kazakhstan: Challenges and Opportunities
Zhandos Temirgali – Deputy Chairman, KAZAKH INVEST
Yerlan Akbarov – Chairman of the Committee of Geology of Ministry of Industry and Infrastructural Development of the Republic of Kazakhstan
Markus Rebmann, Global Managing Director Hatch Advisory
17.45-18.00   COFFEE BREAK
18.00-18.30   PANEL SESSION №1 – "DOING BUSINESS IN KAZAKHSTAN"
Moderator: Yuri Savguira, Advisory Engagement Manager, Hatch
Caroline Gorsalitz – Vice-President of Cameco
Nico Smit – Managing Director, Hatch Africa, Europe and Middle East
Bekassyl Aukeshev –  Chief Executive Officer, Qazaq Geophysics
Timur Odilov – Partner, Holler Lomax
Q&As
18.30-19.00   PANEL SESSION №2 – "MINING INVESTMENTS – A MARKET REVIEW"
Moderator: Anastasia Archer, Advisory Engagement Manager, Hatch
Bakhyt Chirchikbayev – CEO, Tau-Ken Samruk
Darren Klinck – President, Arras Minerals
Kanat Kudaibergen – CEO, Grey Wolf Management
Natalia Lakorzana – Head of Natural Resources Department, EBRD
Q&As
19.00  END OF THE BUSINESS FORUM
19.00-19.30     Informal discussion and networking