EU decarbonisation laws can significantly undermine Kazakhstan's export potential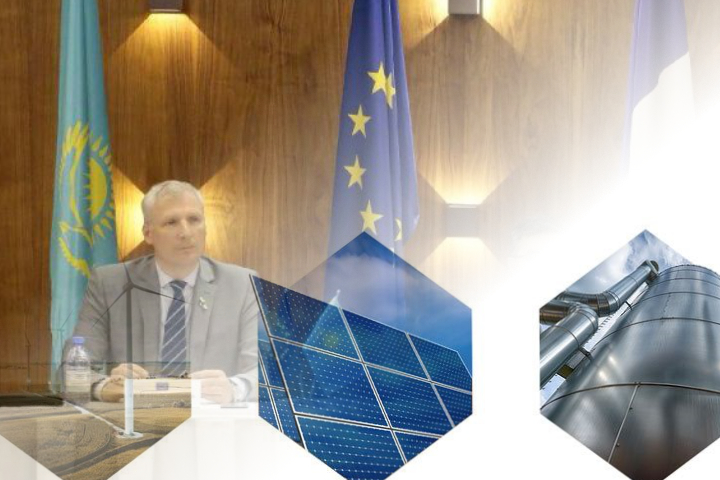 The Republic of Kazakhstan, a country dependent on the export of fossil fuels and minerals, is faced with a dilemma as EU laws aimed at decarbonization threaten its export earnings. The European Commission's EU Green Deal environmental plan aims to reduce net greenhouse gas emissions by at least 55% by 2030. This plan involves the introduction of a cross-border carbon tax on imports of carbon-intensive products into the EU. These products, primarily those from the mining, oil and gas, metallurgical and chemical industries, will be covered by the carbon tax, starting with selected sectors such as iron and steel, cement, chemical fertilizers, aluminium, and electricity imports. The reporting system for these products will be put in place from 2023 to encourage dialogue with partner countries.
Kazakhstan, as a significant exporter of carbon-intensive products, stands to suffer significant losses from this EU policy. According to data from the Bureau of National Statistics, the export of goods from Kazakhstan to the EU reached 31.3 billion dollars in the 11 months of 2022, accounting for 40.3% of Kazakhstan's total exports. Almost 95.4% of this export to the EU consists of oil, oil products and basic metals. The introduction of a carbon tax in the EU will have a major impact on Kazakhstan's economy, affecting all levels.
In order to mitigate these risks, the government of Kazakhstan, together with the participants in the carbon-intensive industries, need to take measures to increase investment aimed at reducing greenhouse gas emissions. One solution is the use of renewable energy sources. Although the use of renewable energy sources is increasing in Kazakhstan, the growth of the share is slow. The transition to renewable energy sources is a complex and expensive process, linked to various factors such as the full flow of rivers, daylight hours, and the frequency of weather conditions that affect the efficiency of renewable energy facilities.
It is clear that the rapid decarbonization scenario is not an option for Kazakhstan, considering the country's reliance on fossil fuels and minerals for its economic growth. This presents a challenge for Kazakhstan, as it strives to balance its commitment to reducing greenhouse gas emissions with the need to maintain economic stability. To address this challenge, Kazakhstan needs to adopt a balanced approach that considers the economic, social, and environmental aspects of the transition to a low-carbon economy. This would ensure that the country can effectively respond to the challenges posed by EU decarbonization policies while promoting sustainable economic growth and ensuring social stability.