Kazakhstan simplifies procedures for obtaining licenses in the field of subsoil use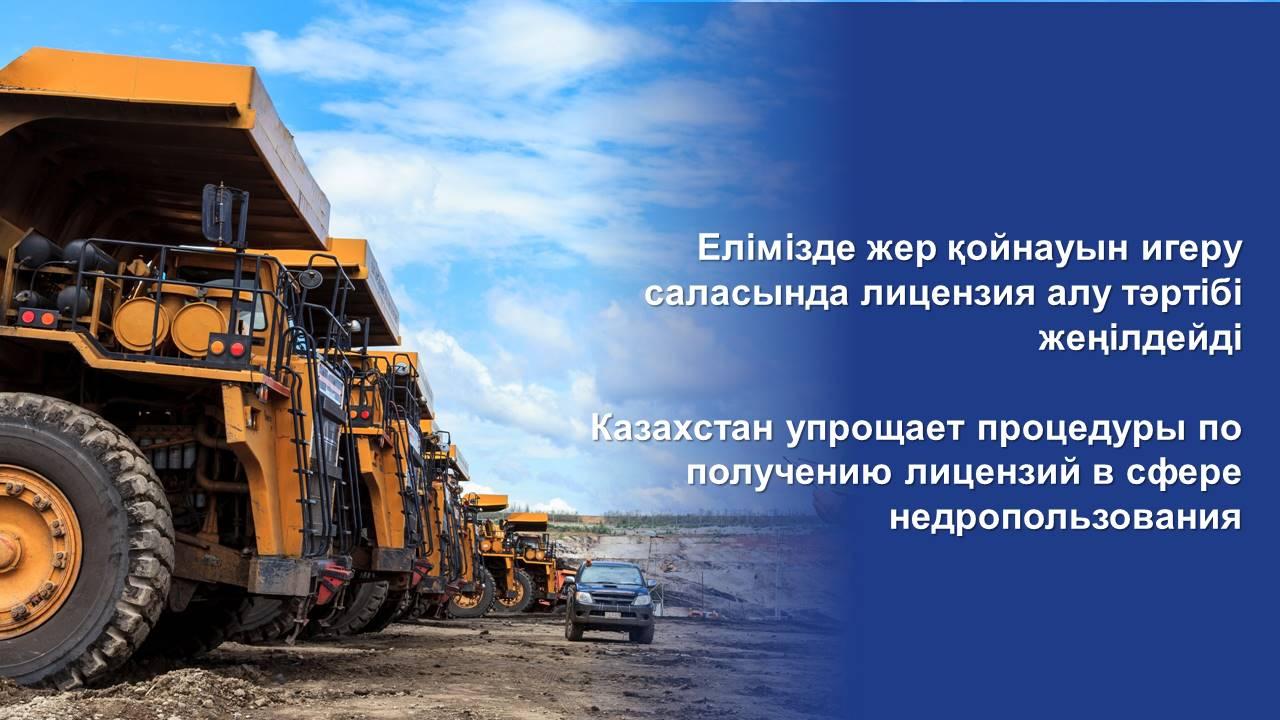 Source:  Министерство индустрии и инфраструктурного развития Республики Казахстан
Minister of Industry and Infrastructure Development Kairbek Uskenbayev at a meeting of the Government of the Republic of Kazakhstan reported to the Prime Minister on measures to attract new investments within the framework of the Concept for the development of the geological industry of Kazakhstan
The head of the MIIR noted that the legal reform carried out in 2017 made it possible to create favorable conditions for attracting private investment in mineral exploration. In particular, a general procedure for issuing licenses on the basis of the "first application" principle was introduced, the State Subsoil Fund Management Program was adopted and the terms for issuing licenses were reduced, and the transition to international reporting standards (KAZRC Code) was fixed.
As a result of the measures taken, more than 700 domestic junior companies have been formed in the industry, and such major global market players as Rio Tinto, Fortescue and Yildirim have been attracted.
«Since 2018, 1922 licenses for the exploration of solid minerals have been issued. The share of junior companies was more than 90%», K.Uskenbaev reported.
However, despite all the measures taken, there are other constraining factors that hinder the effective development of the industry. Therefore, at the moment only 5% of subsoil plots have been licensed, while about 1.4 million sq. km remain available.
«The head of state in his Address to the people noted the importance of a significant simplification of legislation and procedures to attract investment in subsoil development. Therefore, within the framework of the Concept, it is planned to make it as easy as possible to obtain licenses, automate the business process between investors and authorized bodies, and ensure the "transparency" of the process of issuing licenses for the exploration and production of solid minerals. Work in this direction has already begun», the minister said.
According to him, from November 1 of this year. on a single platform of subsoil users minerals.gov.kz, a module for issuing licenses was launched in pilot mode, functionality for sending electronic notifications was implemented, the process of conducting electronic auctions for exploration sites was automated, and for the first time a mechanism was introduced for paying a subscription bonus by the auction winner before issuing a license. In parallel, work is underway to automate the auction for "mining" areas. It is planned to be completed in the 1st quarter of 2023.
In addition, a package of amendments to the Subsoil Code is being developed in terms of automation and simplification of procedures.